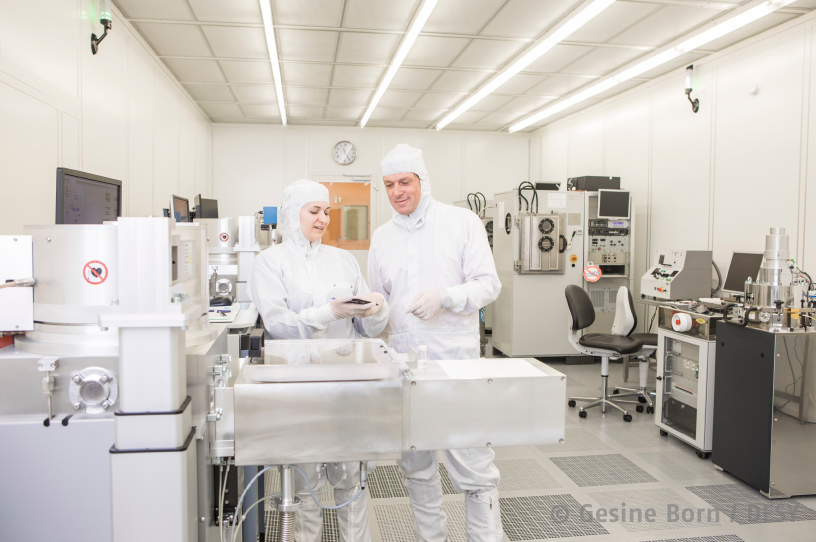 Cleanroom at CHyN
For further information about the clean room, running processes, and tools or if you are interested to use the cleanroom infrastructure please contact:
Thomas Finger, tfinger@chyn.uni-hamburg.de
The usage regulation and agreement can be downloaded as pdf here (currently available only in German) Nutzungsordnung
Cleanroom Team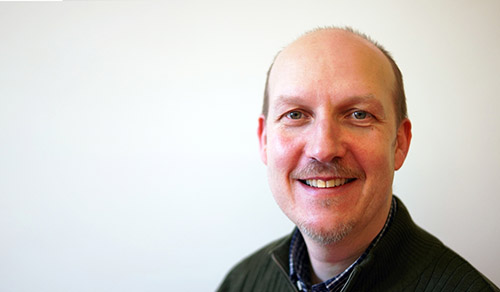 Cleanroom manager
Thomas Finger
Cleanroom Technician
Bojan Bosnjak (DESY collaboration)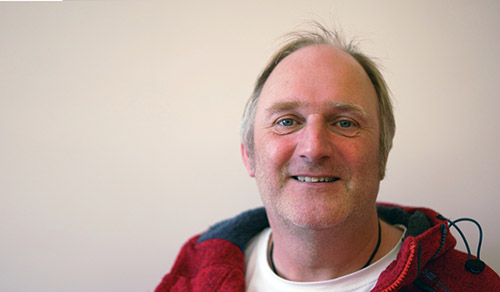 Cleanroom Technician
Matthias Hein
General information
Construction year 2017
Cleanroom class ISO 4
Divided into three areas:

Yellow light area (~100 m²)
White light area (~ 60 m²)
Gray room area (~150 m²)

Working space for more than 30 users simultaneously
The Cleanroom is divided into three working areas.
The yellow light area is intended for working with photosensitive resists and the cleaning and preparing of samples.
For vapor deposition of metals and etching of samples the white light area is provided.
The last working area is the gray room. It contains all the pumps and gas connections for the devices. The gray room area is mostly used by the technicians for the maintenance of the devices.
In addition to the three working areas of the cleanroom there is also a dressing room, where all cleanroom suits are stored for the users, and also a storage room, where all consumables are stored.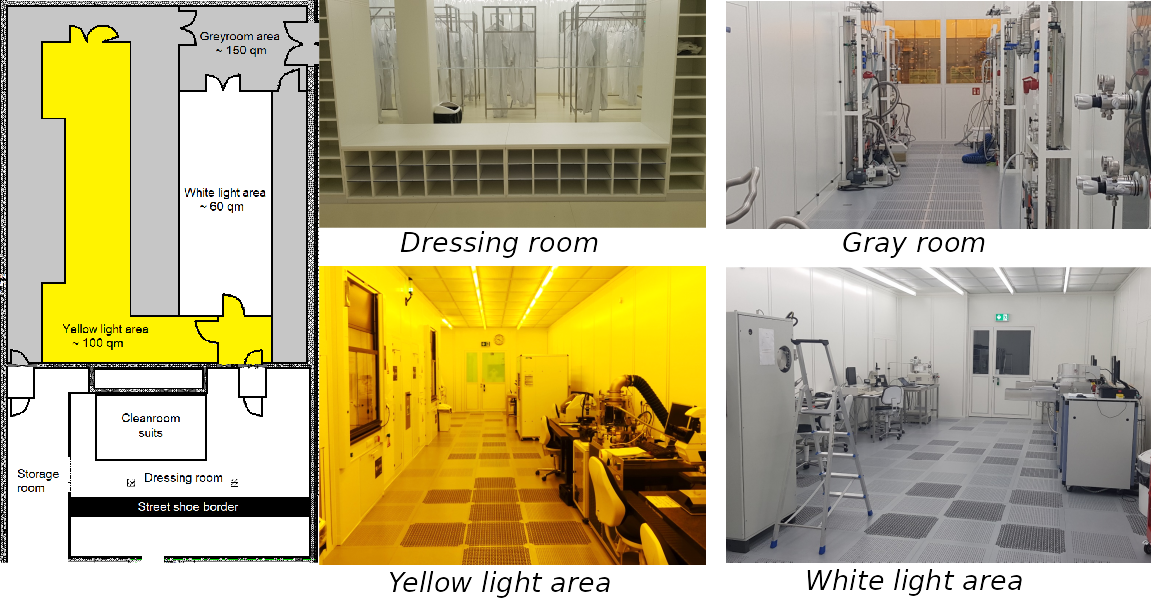 List of Tools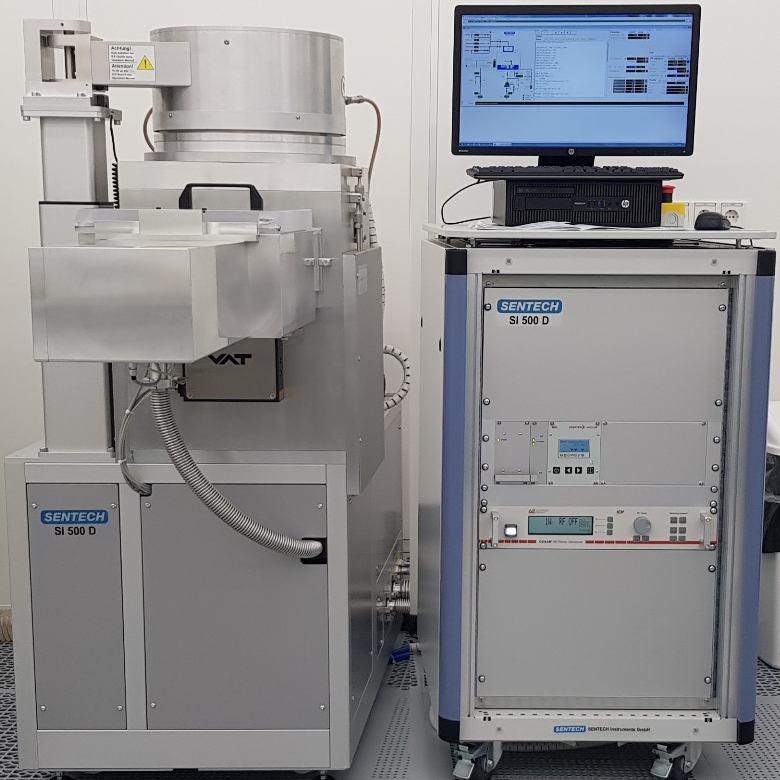 ICP-PECVD
Manufacturer: Sentech
Type: SI 500 D
Construction year 2015
Deposition of SiO2 and Si3N4 with an accuracy of a few nanometers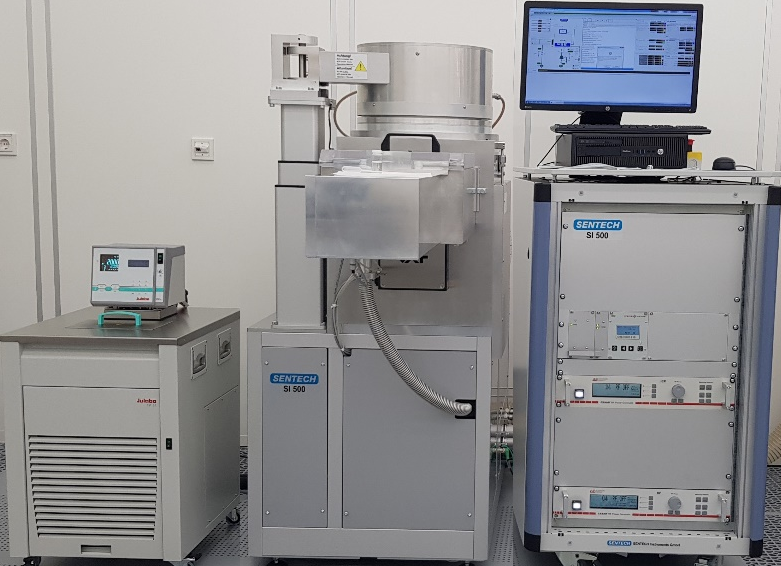 ICP-RIE (Si)
Manufacturer: Sentech
Type: SI 500
Construction year 2015
Dry etching of Si, SiO2 and Si3N4
Bosch process for deep-RIE available
ICP-RIE (III-V)
Manufacturer: Sentech
Type: SI 500
Construction year 2019
Dry etching for GaAs, InGaAs and AlAs with high selectivity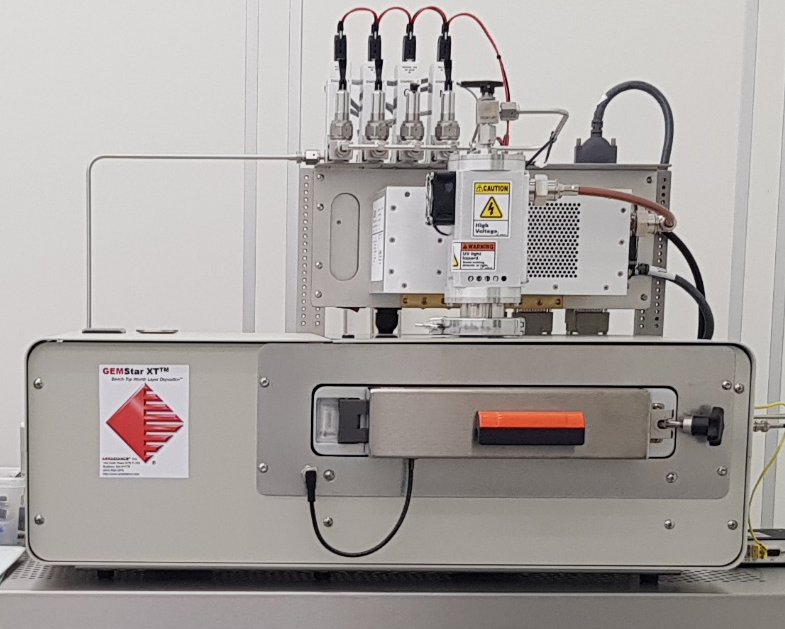 Thermal/Plasma-ALD
Manufacturer: Arradiance
Type:GEMStar XT-DP
Construction year 2017
Deposition of Al2O3, TiO2, HfO2, AlN and TiN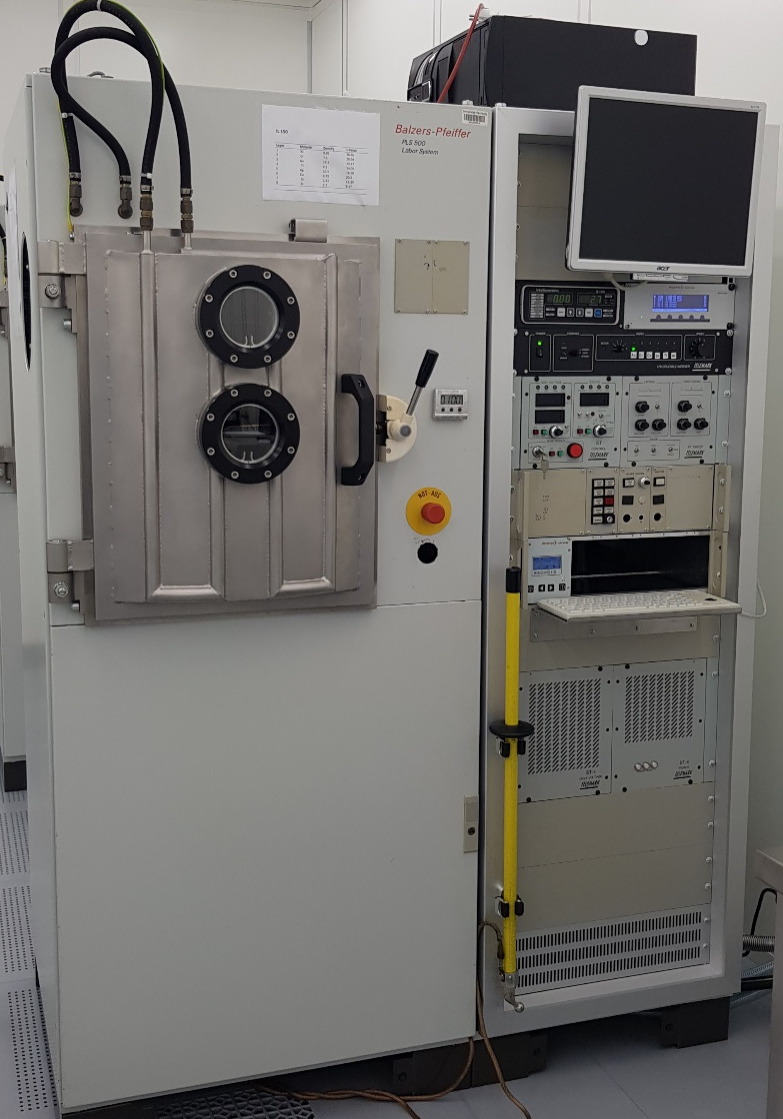 Physical Vapor Deposition
Manufacturer: Balzers Pfeiffer
Type: PLS 500
Construction year 1995
Thermal and electron beam evaporation of many metals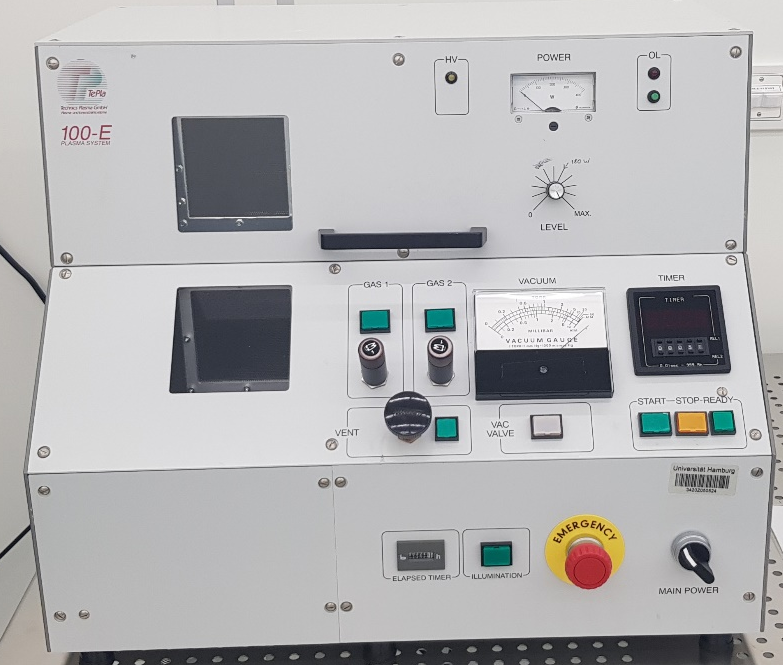 Barrel Reactor
Manufacturer: Technics Plasma
Type: TePla 100-E Plasma System
Construction year 1995
Cleaning of semiconductor samples in oxygen plasma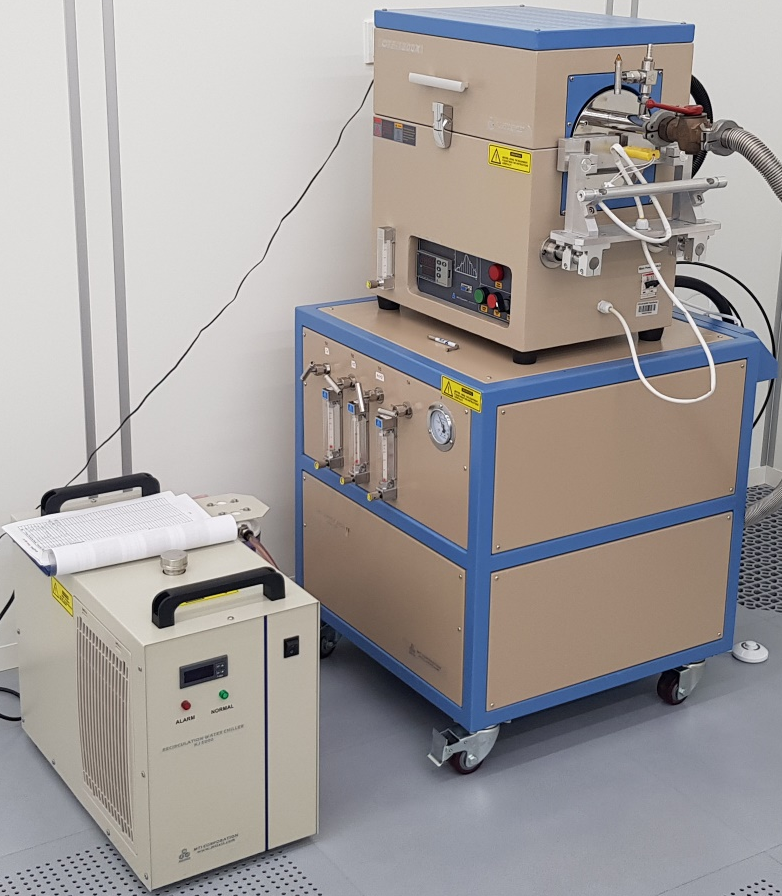 Rapid Thermal Annealing
Manufacturer: MIT Corporation
Type: RTA OTF-1200x
Construction year 2014
Annealing of samples in defined environments and rapid heating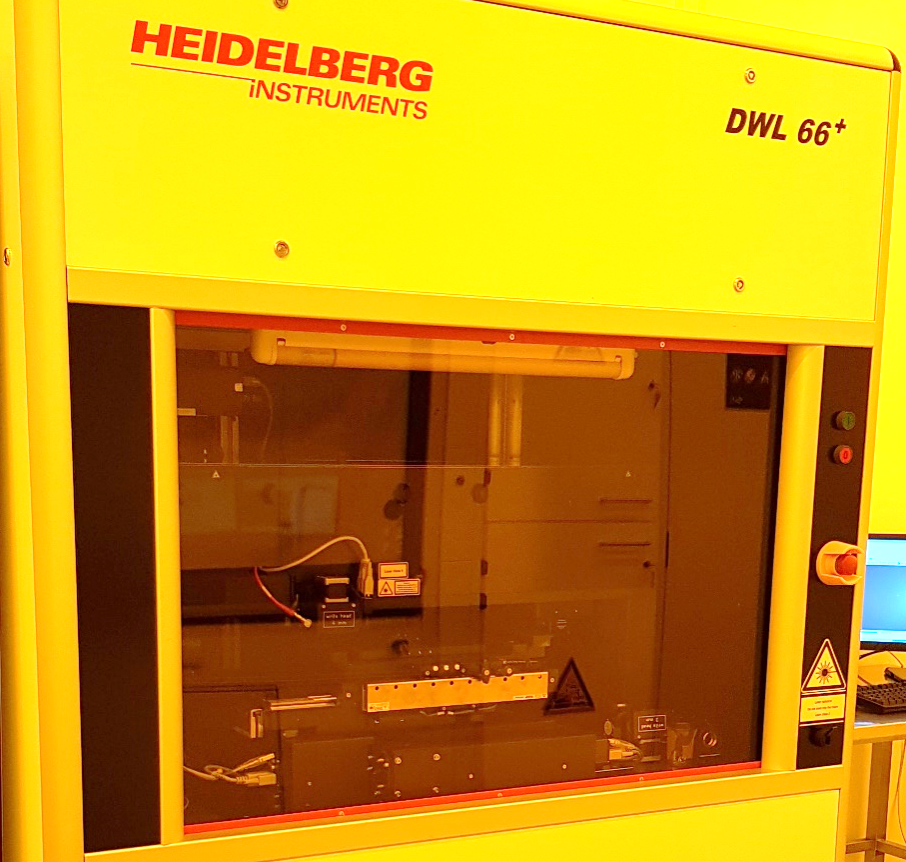 Laser writer
Manufacturer: HEIDELBERG
Type: DWL 66+
Construction year 2014
Writing shadow masks and direct contact structures
Grayscale lithography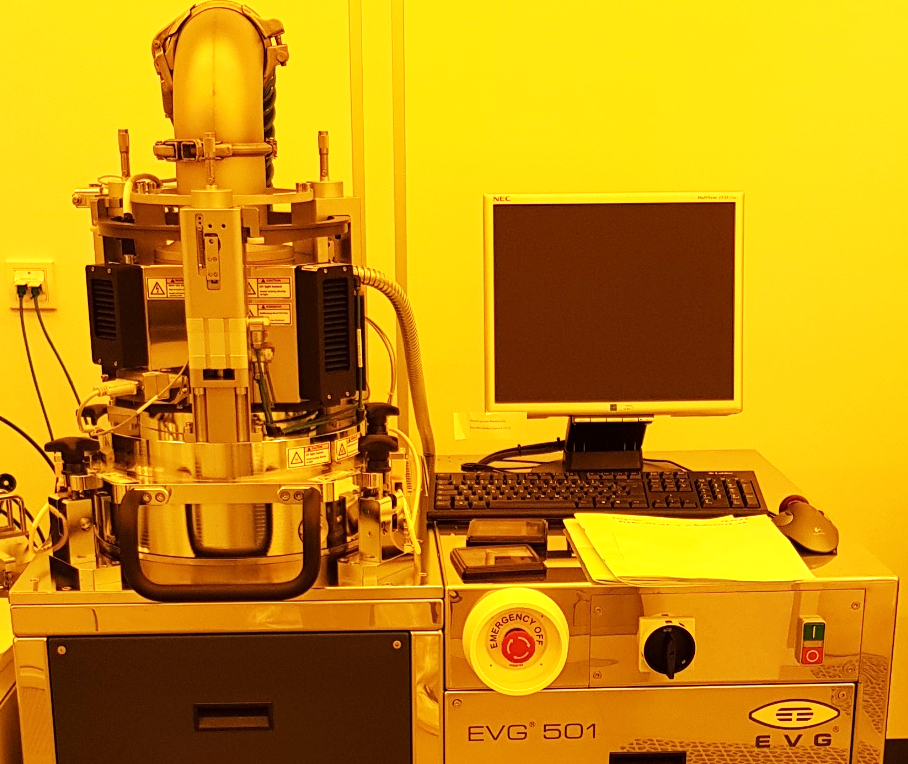 Nanoimprinter
Manufacturer: EVG
Type: Nanoimprint EVG 501
Construction year 2014
For embossing and nano-imprinting applications with a high accuracy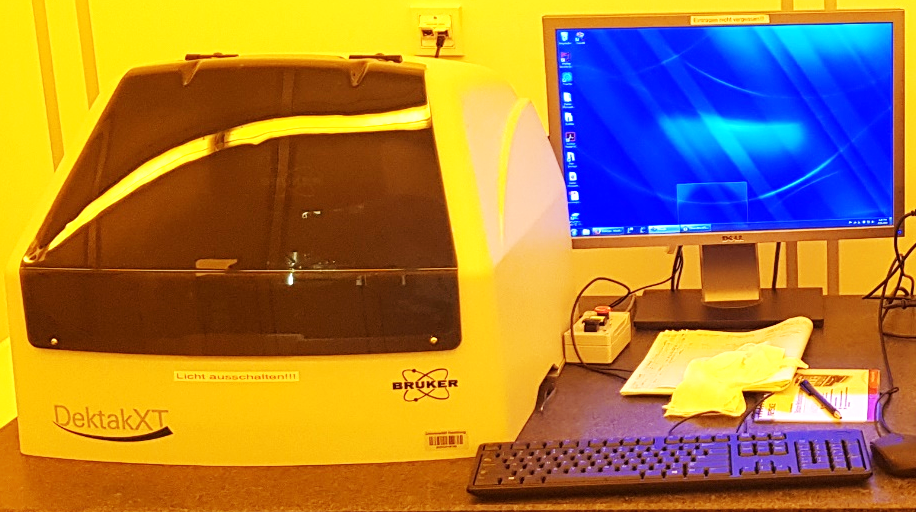 Profilometer
Manufacturer: Bruker
Type: Profilometer Dektak
Construction year 2013
Measurement of layer heights and roughness of samples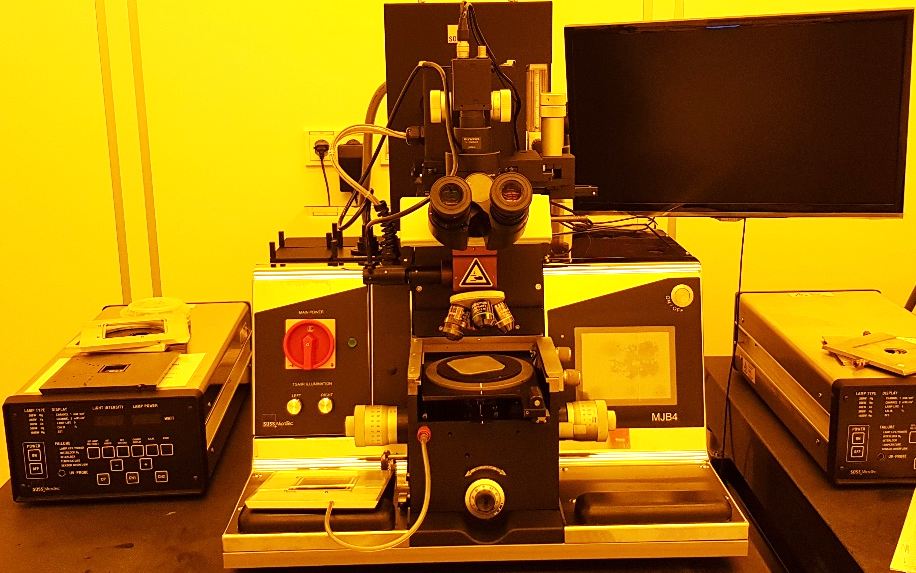 Mask aligner
Manufacturer: Karl Süss
Type: MJB4
Construction year 2005
Contact exposure method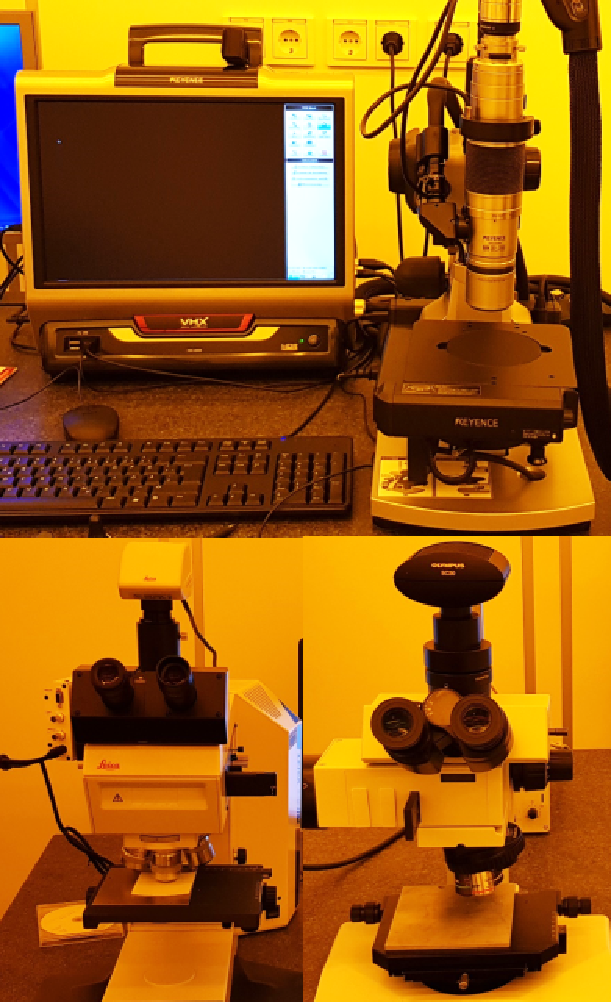 Various optical microscopes
3D-Microscope from Keyence which enables for making high quality stitched images of the sample.
Rflected light microscope from Leica and Olympus which are used for control of the lithography.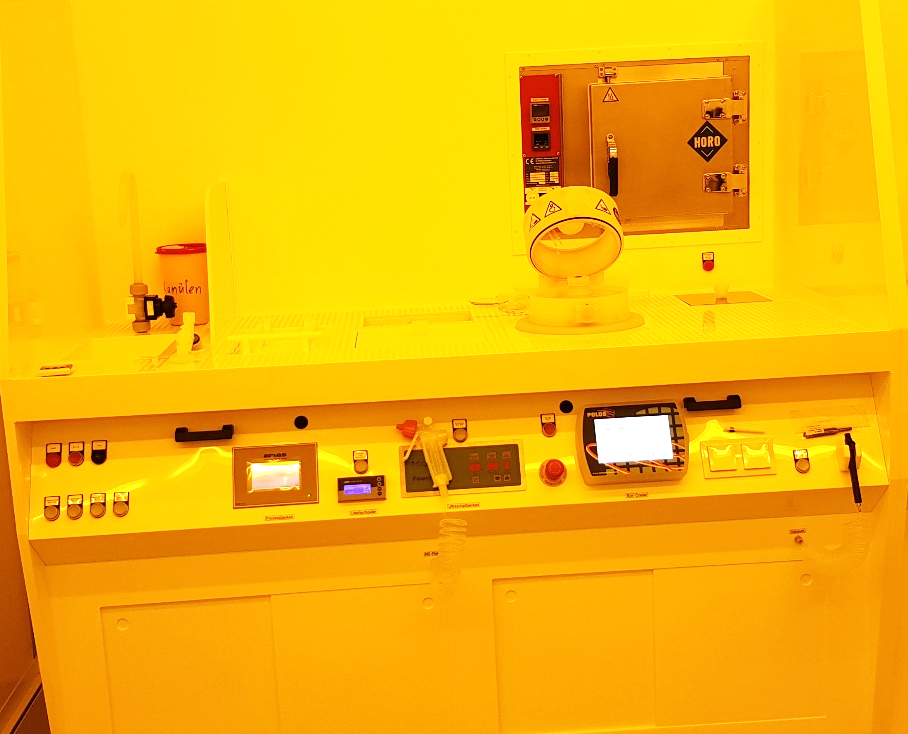 Wet bench (4x)
Manufacturer: Arias
Construction year 2017
Integrated overflow basin, ultrasonic basin, spin coater, nitrogen gun and drying oven
Anodic Wafer Bonder
Manufacturer: EVG
Construction year 2019
Wafer bonder for semiconductor metal adhesion
Selection of Established Processes
Processing of nanochannels for the DNA characterization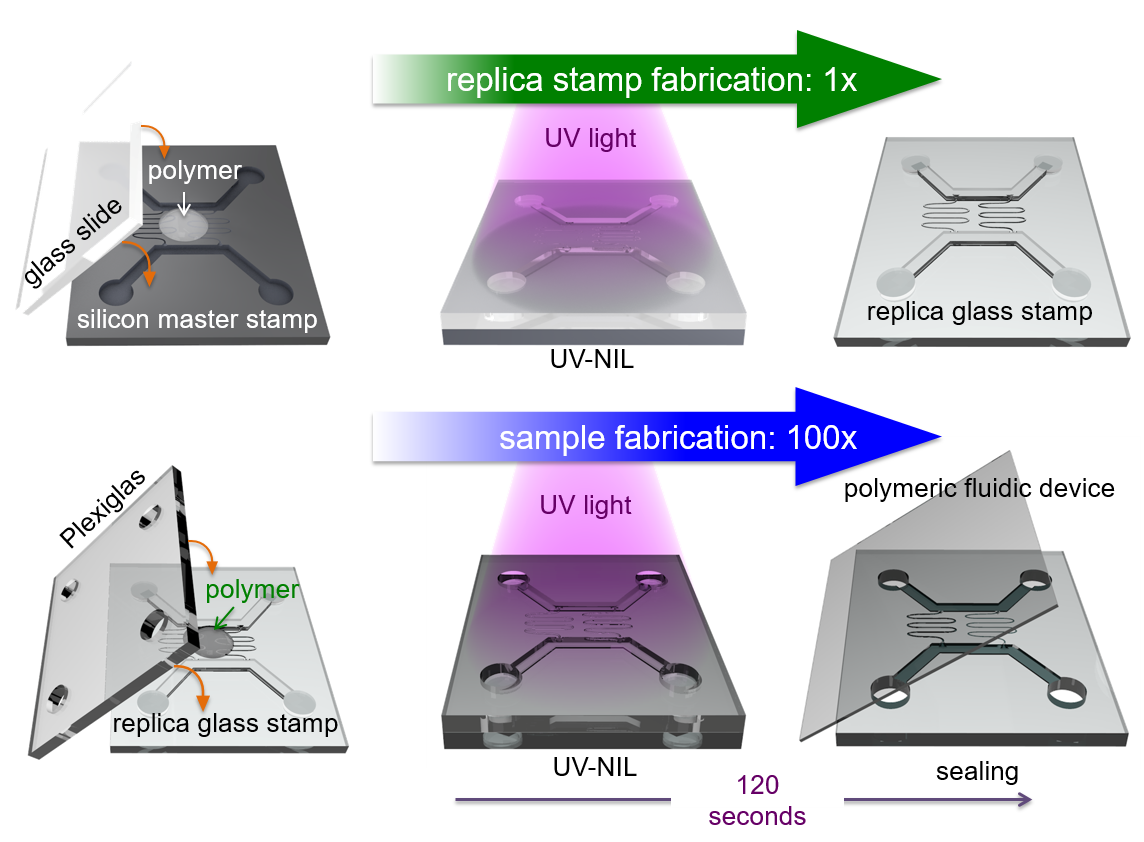 For the manufacture of a Lab-on-a-Chip device at first a silicon master stamp is produced using photo- and electron beam lithography as well as reactive ion etching. Furthermore, the samples with the nanochannels are fabricated using nanoimprint lithography, which makes the optical mapping of a single DNA molecule possible.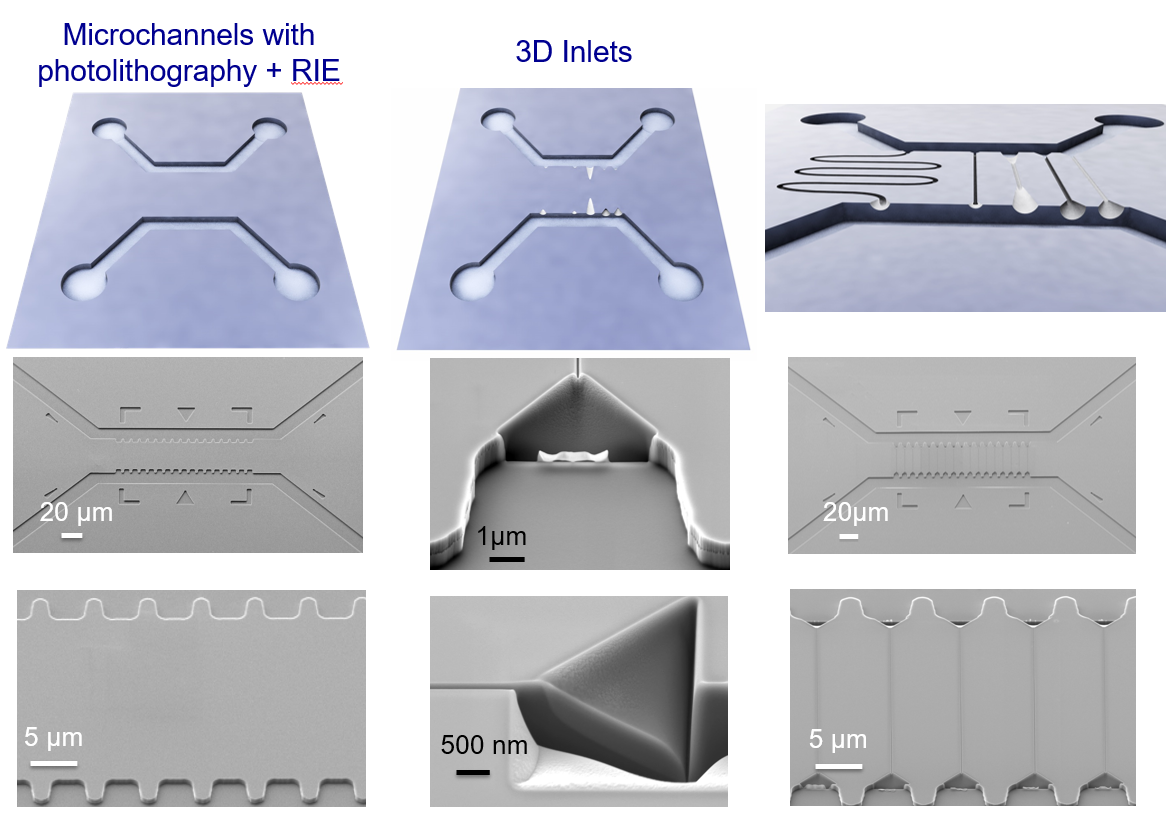 Processing of contacted nanowires for monitoring of the cation exchange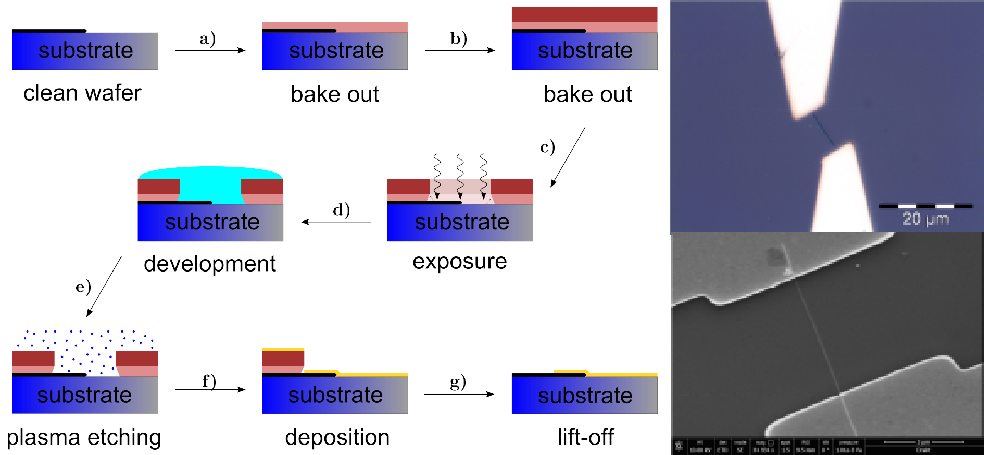 To study cation exchange from CdSe to Ag2Se, individual nanowires are selectively contacted by UV laser lithography using the Heidelberg Instruments DWL66+ laserwriter. Precise control over the cation exchange process through I-V monitoring is achieved with these samples.
Processing of nanopores for single biomolecule experiments



GaAs membranes (20 nm thin) with open nanopores are produced for single molecule and particle experiments. In the future it shall be possible to measure biomolecule translocation for applications such as DNA sequencing. This process is in the optimization phase.
Processing samples for guided neuronal growth in 2.5D
2.5D cultured platforms with channels are produced using optical lithography and reactive ion etching to study topological guiding cues for neurite outgrowth in in-vitro neuronal cultures.

Processing of monolayer graphene samples with various designs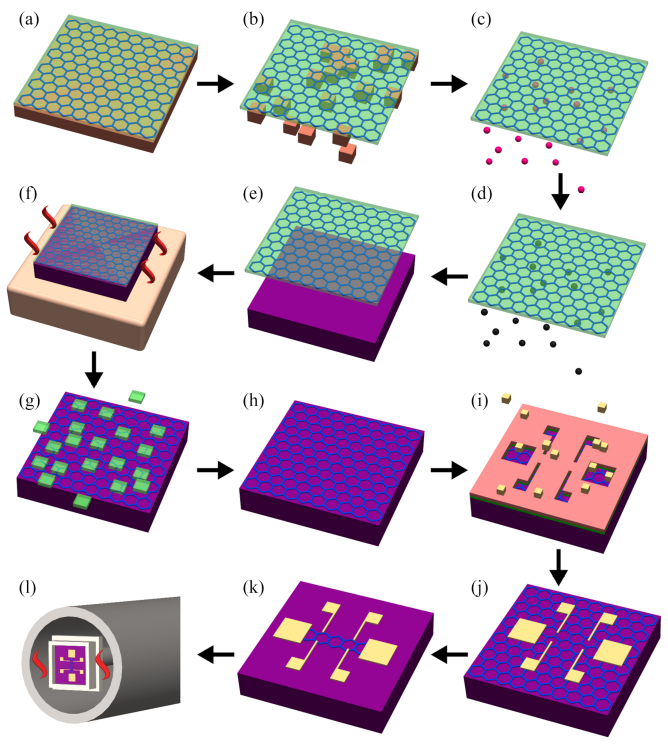 The production of monolayer graphene samples with various geometries and substrates for the investigation of the electronic properties at low temperatures are carried out in the cleanroom.
The samples are produced with high precision and in strictly defined environmental conditions.
With these samples it was possible to measure the electronic spin resonance in graphene.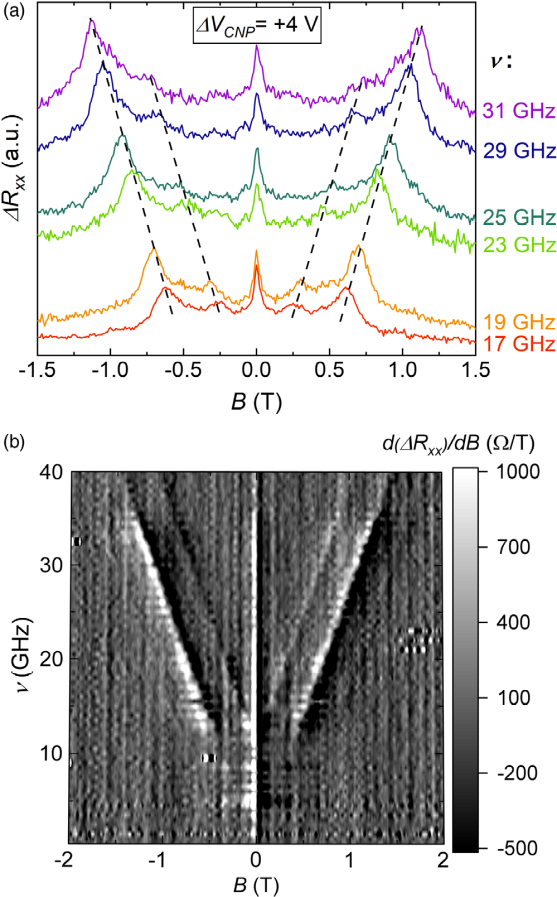 General information
Anlage: Linde Kryotechnik L70
Verflüssigungsraten reines Gas:
Ohne LN2 Vorkühlung : 32 L/Std
Mit LN2 Vorkühlung: 56 L/Std
Verflüssigungsraten verunreinigtes Gas:
Ohne LN2 Vorkühlung: 25 L/Std
Mit LN2 Vorkühlung: 45 L/Std
Verflüssigte Menge Helium 2018: ~ 93 000Liter
Flüssigheliumtank: 5000 L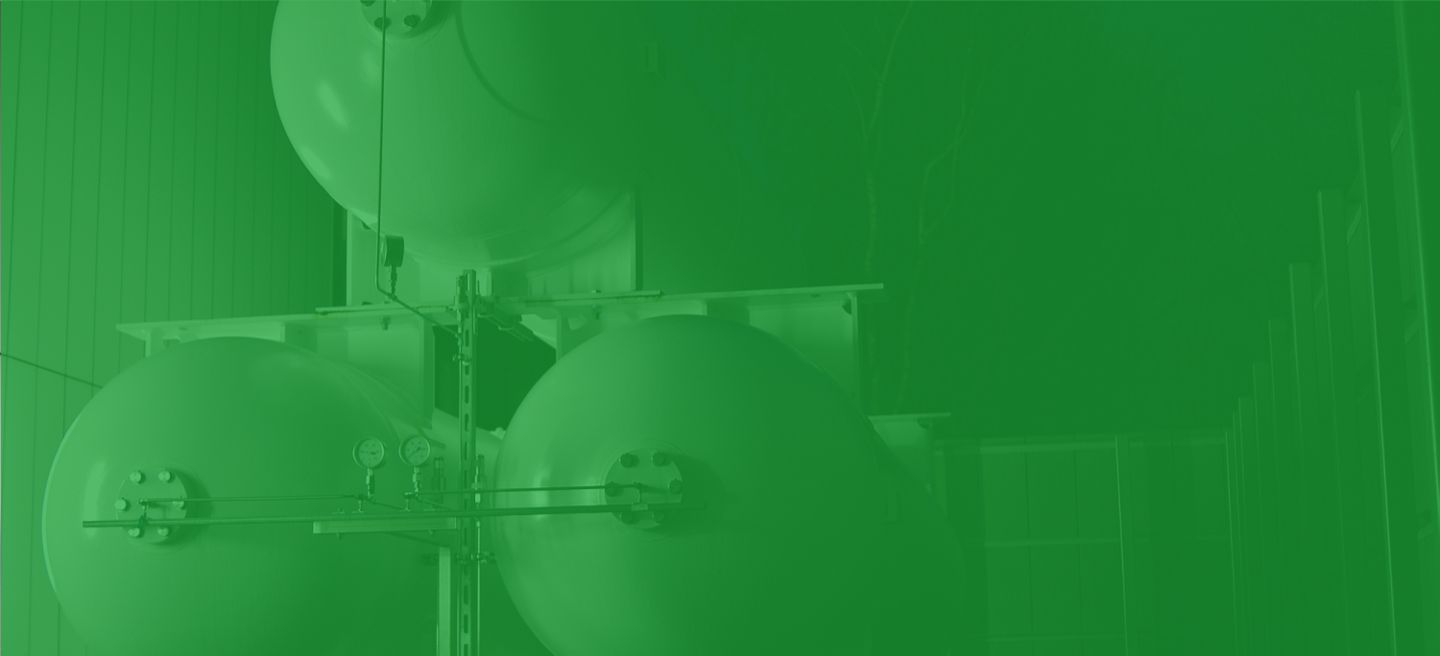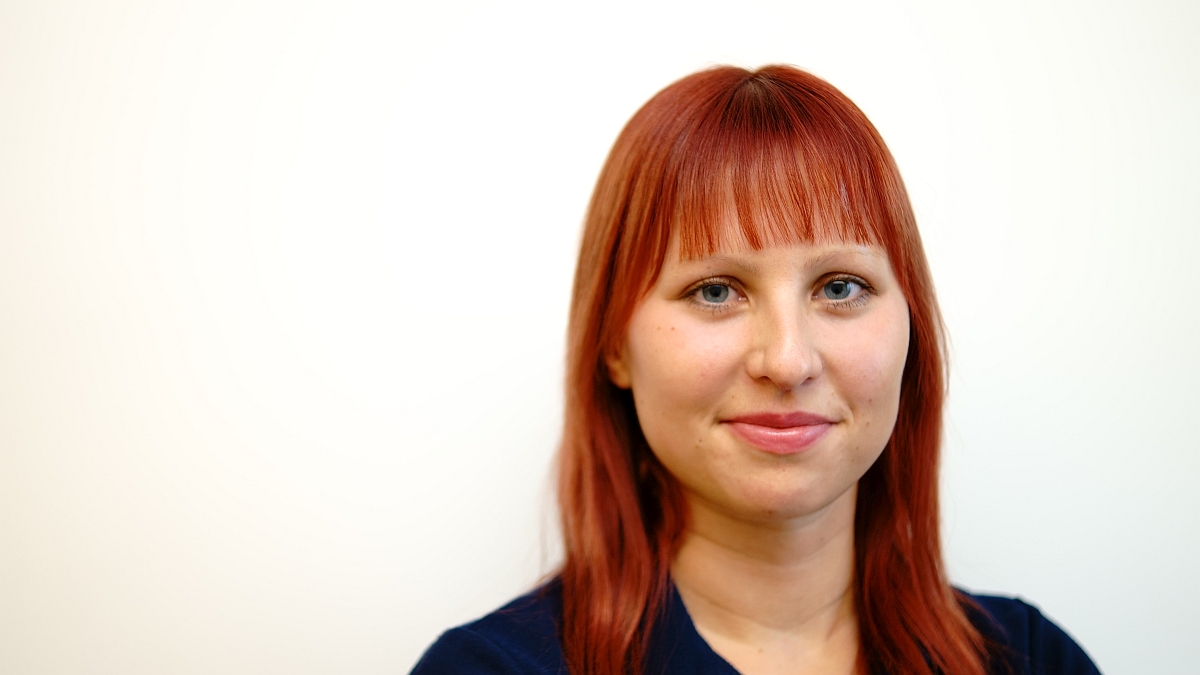 Helium Technician
Alina Trumpjahn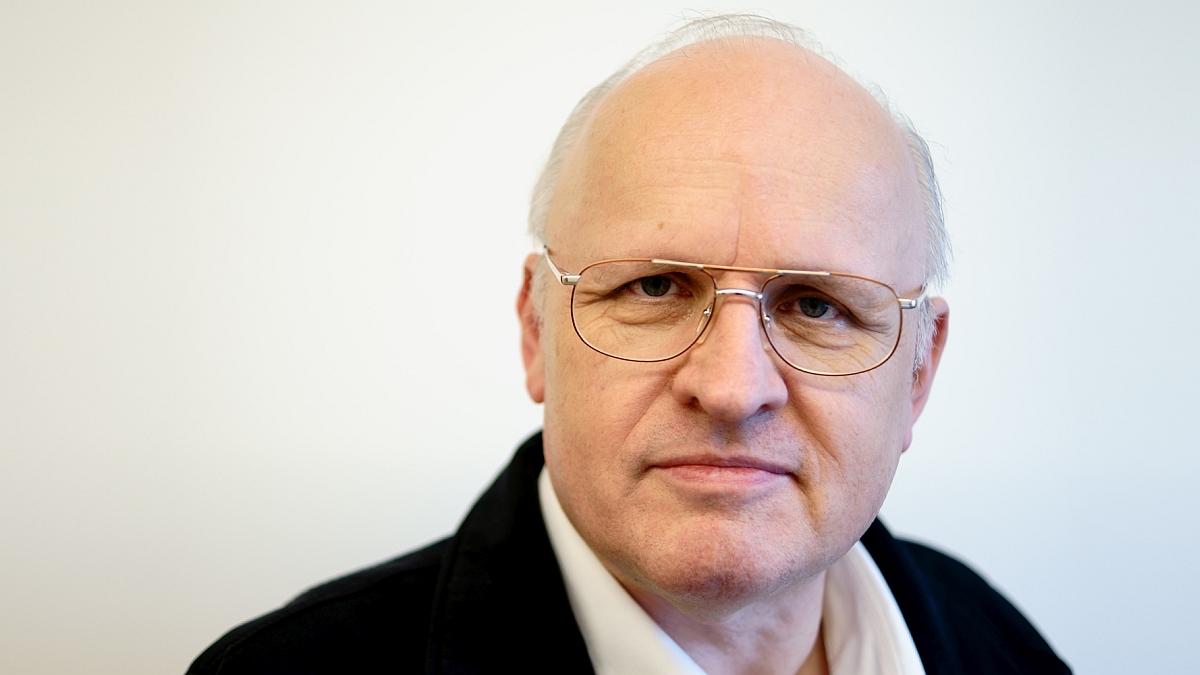 Helium Technician
Gerd Neuber